Balsamic Air
Respiratory comfort (all seasons)
Respiratory problems are the primary cause of underperformance in horses. They reduce muscle oxygenation capacity, which directly affects sporting performance, thus creating specific nutritional requirements in horses.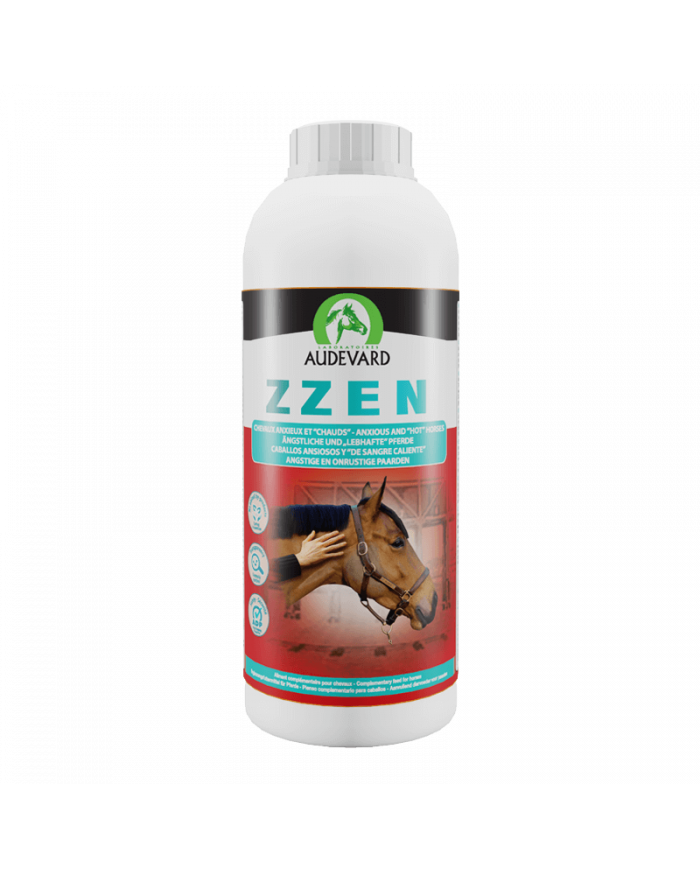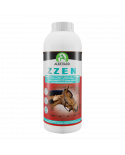 Liquid solution composed of 4 essential natural oils
Can be sprayed in the environment
Recommended during cold weather
Syrup for horses
Knowing what to look out for in your horse.
Know how to recognise the signs that could indicate a need for upper airway support, particularly in the event of weather changes or groups of several horses: reduced performance, loss of appetite, exercise intolerance, more rapid and more laborious breathing, nasal discharge in one or more horses. Don't hesitate to make a precise note of these signs and to share them with your vet, who will be able to advise you and recommend the use of Balsamic Air.
Knowing how to plan ahead.
Our vets' experience shows that it is possible to anticipate situations when Balsamic Air would be useful in order to prevent occasional loss of respiratory performance. This could affect your horse when the weather starts to get colder, for example, or when he/she starts training or comes into contact with other horses. If your horse is older, he or she may be less fit and will benefit more particularly from Balsamic Air. Several of the team's riders systematically use Balsamic Air when they travel to events where their horse will mix with lots of other horses.
The immediacy of essential oils
An essential oil is a complex mixture of substances extracted from specific plant parts by distillation and it is this complexity that gives it its properties. Composed primarily of "fine" molecules, essential oils are easily absorbed by the body.
Changes in environment, habit or even just temperature can weaken your horse's respiratory function. This can lead to under-performance or simply respiratory discomfort.
Formula
Our vets have chosen to supply the plants in the form of essential oil, making the plant nutrients immediately available. Dried plants or plant extracts do not enable this immediacy.
It is these high standards that have made BALSAMIC AIR a success for more than 30 years. You will recognise the purity of the essential oils used by the product's very characteristic fine herbal odour. The formula is completed with thyme mother tincture for longer-term management of respiratory needs.
Balsamic Air does not contain any ingredients that could could cause your horse to test positive to anti-doping tests. The ADP programme guarantees that there is no contamination that could lead to a positive result during anti-doping tests.
Advice
Do not hesitate to use BALSAMIC AIR when temperatures fall (cold weather) or when your horse changes environment. Riders like to give this syrup to their horses when the weather gets colder or for a few days before and after a competition, as well as during long journeys in a confined space such as a horsebox or lorry. Its texture means it can be administered either directly into your horse's mouth or by spraying in the horse's environment. Balsamic Air is particularly palatable for horses and can be easily added to feed.
Presentation
500 ml bottle - Sufficient for up to 25 days' use in adult horses.
1 L bottle - Sufficient for up to 50 days' use in adult horses.
Ingredients focus.
Eucalyptus: A native Australian tree. Eucalyptus essential oil contains eucalyptol, appreciated for its refreshing, spicy odour. Its fluidifying properties help prevent the respiratory tract becoming congested and therefore maintain respiratory comfort for your horse.
Nutritional supplements for respiratory comfort. Balsamic Air provides support during respiratory discomfort. Can be used in all seasons.
Daily allowance:
10 ml, 2 times per day for 8 days.
BALSAMIC AIR can also be sprayed in the surrounding air. Shake well before use. Pour onto the feed or administer directly to the horse via the mouth.
Intake per dose (10 ml)
- Eucalyptus EO: 55 mg
- Rosemary EO: 55 mg
- Paperbark EO: 55 mg
- Pine EO: 52 mg
- Thyme MT: 14 mg
- Terpineol: 52 mg
Composition: sorbitol, potassium chloride. Additives (per litre): -2b- Aromatic substances: paperbark (Melaleuca viridiflora - essential oil) 5,460 mg, rosemary (Rosemarinus officinalis - essential oil) 5,460 mg, eucalyptus (Eucalyptus globulus - essential oil) 5,460 mg, norway pine (Pinus sylvestris - essential oil) 5,160 mg, 2b02014 terpineol 5,152 mg, thyme (Thymus vulgaris - mother tincture) 1,360 mg. Analytical constituents: humidity 96.3%, crude protein 0.8%, crude fats 0%, crude ash 0%, crude fibre 0%, sodium 0.003%.
Helping my horses to breathe better is essential to me. I always take bottles of BALSAMIC AIR wherever I go, because some of my horses tend to start coughing when they are subjected to dusty hay or dry arena surfaces. Equally when they are being transported where the confined spaces start to irritate their respiratory mucosa. This liquid helps them to arrive feeling fresh at the competitions. Without a strong respiratory capacity, it's impossible to complete a clear course.
Your questions.
There are lots of horse syrups on the market. What is different about BALSAMIC AIR?
The answer is simple, Balsamic Air contains concentrated essential oils, guaranteeing their absorption whenever your horse swallows it, not after the product has been digested. Essential oils also make it possible to preserve as many of the molecules found in the original plant as possible. You will quickly understand when you smell the product. In addition, depending on your horses' preferences and your organisation, the product can be given three different ways, for easy, flexible administration: BALSAMIC AIR can be given into the mouth using a syringe, poured onto hay or pellets, or sprayed into the environment.
My horse is due to compete soon. Can I give him BALSAMIC AIR?
Yes, BALSAMIC AIR does not contain any ingredients that could lead to a positive result during anti-doping tests so you can use it without any risk and in all circumstances (competitions, stables).
Each year, I give my horses Balsamic Air whenever their noses begin to run; what else should I do?
This use appears to correspond to a period of reduced immunity in your horses. Giving Immuno RS before colder weather arrives would doubtless help ensure your horses have the nutrients they need to cope better with this specific period.
Apart from Balsamic Air, what else can I do to support my horse's respiratory function?
Managing your horse's respiratory environment is essential. Clean stables thoroughly, limit contact with new stablemates or make sure that his/her immunity is well supported using specific nutrients such as those contained in Immuno RS. Do not hesitate to ask your vet for advice.