Back to products
Triple action to support tendons and ligaments
The horse's tendons and ligaments are made of delicate fibre bundles that work under heavy tension. Therefore, these fibres have intrinsic resistance and elasticity, defined by their content of type I collagen. Different stages require adapted levels of care (periods of intense training, or during the recovery period after a tendon injury).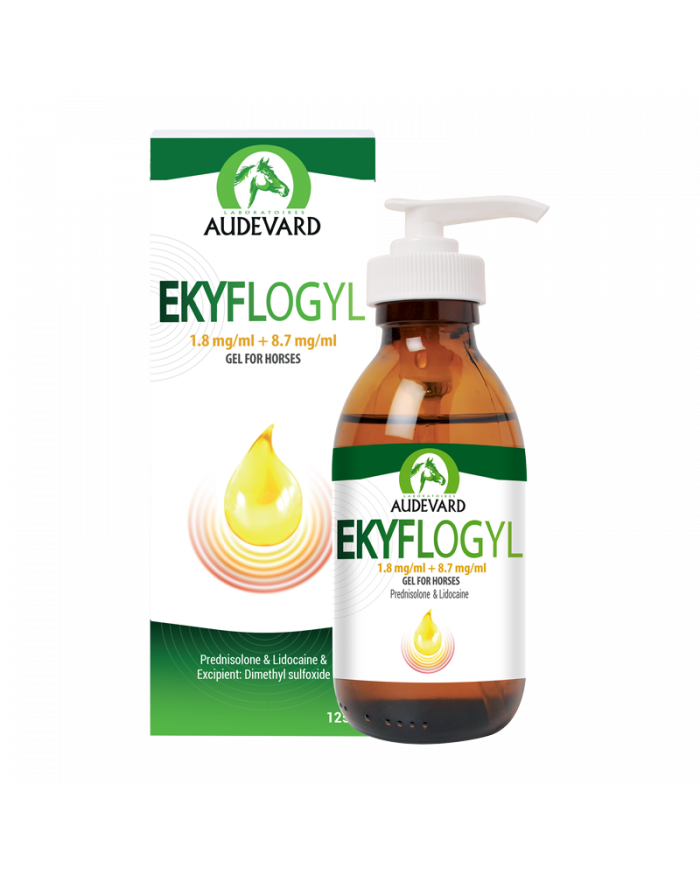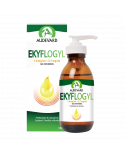 Support during training season or following a tendon injury
Triple action
Last generation ingredients
ADP: controlled product suitable for use during competition (up to 4 doses/ day)
Eco-friendly packaging
An innovation for tendons
EKYFLEX TENDON EVO is a complementary feed formulated by AUDEVARD laboratories. It is designed to provide a nutritional support dedicated to the specific needs of tendons and ligaments.
Learning to recognise the signs of tendon and ligament damage.
Tendons and ligaments are superficial musculoskeletal structures. Any injury, even in its early stages, will likely cause visible signs: heat, swelling, loss of definition. These are early indicators that the tendon and ligament fibres have been affected, mostly due to age and/ or exercise related factors. Learning to recognise early signs of damage is important: up to 70% of horse owners report having noticed at least one of the signs of early tendon or ligament damage, even if the horse did not present lame at the time. If these signs appear frequently and are not treated, the risk of acute tendinitis increases. Therefore, prevention becomes an essential asset to avoid an episode of tendinitis which will lead both horse and rider down a long and perilous healing process. Indeed, tendon and ligament healing in horses can be uncertain, with up to 80% of horses suffering from injury recurrence.
A triple action to strengthen collagen fibres
Ekyflex Tendon EVO represents the evolution of tendon and ligament support.
Based on its veterinary expertise, Audevard innovates with a triple action on tendons to free the horse's bounce:
1. Create quality collagen thanks to Tendogen I® (combination of specific amino acids precursors of type 1 collagen) and white willow extract (boosts the conversion of temporary, low-resistance type 3 collagen, into long-lasting, resistant type 1 collagen).
2. Optimise the tendon environment with Boswellia serrata and citrus extracts, two powerful antioxidants that create an environment for proper fibre alignment and function.
3. Strengthen the attachment to the bone with vitamin D3 to enhance the insertion of tendon and ligament fibres to the bone.
Indications of use
Ekyflex Tendon EVO is designed to strengthen tendons and ligaments during the training season, or to support the recovery phase following a tendon injury. This nutritional support is recommended for horses in the following instances:
• During the working period: if the horse shows early signs of tendon weakness (heat, swelling, windgalls...), has a previous history of tendinitis, or intensive training is underway.
• During the recovery phase: after a tendon injury diagnosed by a veterinarian.
Doping
Ekyflex Tendon EVO is a controlled product within the Audevard Anti-Doping programme, in which each batch is tested by the LCH (Laboratoires des Courses Hippiques). It can be used during the competition period by not exceeding 4 times the recommended daily dose (30g dose).
Presentations
• 900g tub. Allows 30 days of use as a support dose.
• 1.8 tub. Allows 60 days of use as a support dose.
Eco-Friendly Packaging
Ekyflex Tendon EVO is part of an eco-responsible approach thanks to a new packaging made from plant-based plastic.
Complementary feed designed for the needs of tendons and ligaments 
 Daily allowance:
• Support dose : 1 measure once a day during periods of competition, intense activity or for 1 to 2 months before an event. The dose can be doubled on the advice of your veterinarian.
• Maintenance dose: 1 half-measure during non-intensive periods.
For a pony, divide the measures by 2; support: 1/2 dose, maintenance: 1/4 dose.
1 dose = 30g
Average daily intake (1 measure = 30 g)
Tendogen I®: 30 g
White Willow: 3 g
Boswellia Serrata: 650 mg
Citrus: 6 mg
Vitamin D3: 400 mg
Composition (per kg): alfalfa, lithothamnion, carob, sugar beet molasses, Stevia Rebaudiania, citrus extract (≥50% bioflavonoids) 13 300 mg. Additives (per kg): - 2b - Flavouring substances: Tendogen I® (2b17034 glycine 136,700 mg, 2b17019 L-proline 46,700 mg), white willow (Salix alba - standardized to 25% salicyline) 100,000 mg, apple aroma 25,000 mg, 2b2816-ex extract of olibanum (oleoresin of Boswellia serrata - standardized to 65% boswellic acid) 21,700 mg. -3a- Vitamins, pro-vitamins and substances with a similar effect: 3a671 vitamin D3 100,000 IU. -3c- Amino acids, their salts and analogues: Tendogen I® (3c322 L-lysine 110,000 mg, 3c370 L-valine 40,000 mg). Analytical constituents: humidity < 10%, crude protein 4.0%, crude fats 1.5%, crude ash 14.0%, crude fibre 4.0%, sodium 0.1%.